AstroApp is the first web based professional Astrology software.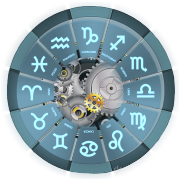 AstroApp contains all the features of advanced
Astrology software
and it is available in the cloud. You don't have to worry about backups, patches, installation, upgrades or about your computer configuration. There is no need to keep moving your charts databases each time you buy a new computer, laptop, Mac or iPad. All you need to run AstroApp is passion for astrology and your web browser!
AstroApp offers a wide range of exciting features not found elsewhere. Those practicing Medieval Astrology would appreciate medieval magic algorithms, Distributions, Profections, and 11 types of Primary Directions. Crisis charts and anatomical projections are available in the Medical Astrology module. Mesoamerican school of astrology is represented by the Mayan Planetary Horoscope. Modern astrologers would enjoy features like golden section charts, persona charts, details for 100,000 asteroids and so on.
With AstroApp you just subscribe for a Free or Premium membership and you can always renew or terminate your subscription at any time. Since AstroApp is entirely web-based, you can run it on your Mac (iMac, MacBook and so on), iPad, PC and on almost any device that is connected to the Internet.